If you know me – you know I like the smurfs… and they're doing pretty well at the moment, so happy for them. Lol!
Smurfette is even being hired to model in magazines… check out Harpers Bazaar where she's showing the latest accessories.
We even went to see the smurfs in 3D, but we should have brought a kid as well, ha!
When the kid in front of us shouts out in the end; this was smurftastic… well, they were cute though (the smurfs I mean) as always!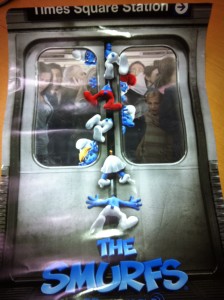 If you're up for a more grown up movie I saw Horrible Bosses a couple of weeks ago – and it was hilarious.
Weel, this was it from the movie tips corner.. for now, over and out!