It's time for a female instructor don't you think.
Not any one – but the awesome, fierce Kristin Sudeikis.
When I was hired at Crunch gym for the very first in time in 2008, my boss told me that I should take Kristin's class, because he thought that I'd like her energy in class – since that was about the same energy I creates in my classes.
I take that as a phat compliment – since I did take her class and discovered she's amazing.
Energy! Fun! Strong! Super talented! Gorgeous! Extremely humble!
Eight words that describes her very well.
Since then I've taken her classes many times.
Of course I recommended her to Lina as well – and she's been in Sweden for the NIKE BLAST, 3 years in a row.
Last time she also taught a guest class at House of Shapes.
Her specialty is lyrical/contemporary classes – but she's also rocking the girly hiphop-style.
Besides Crunch, she's teaching both at Peridance and Broadway Dance Centre.
And, at Crunch she's teaching both lyrical/contemporary and hiphop.
Her friday night class, 18.30 at Lafayette is a pure dance party and I'd be really surprised if that time slot would't stay the same for the fall.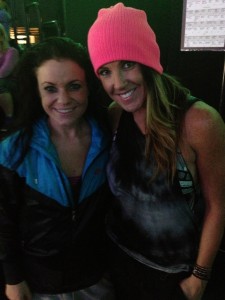 Me and Kristin at the NIKE BLAST Stockholm-13.
2012 she, me and (the just wonderful) Åsa Eriksson presented a team class at the NIKE BLAST; Femme Fatale.
Here's a clip from that.
Do not miss the opportunity to take her class if you're joining our trip.