For english – scroll down
Senaste konceptet från Åsa Fornander heter Dance Detox Flow.
Det är en dansklass i lättsamt träningsformat.
Klassen är uppdelad i tre delar; den inleds med en teknikuppvärmning, därefter en golvdel, och sen en koreografidel i flöde till musik.
Stilen och känslan är inspirerad av contemporary och modern jazz.
Tempot är relativt långsamt så du kan jobba ordentligt på att förlänga och expandera och jobba med kroppen i olika riktningar, rörelseplan och nivåer och självklart även olika rörelsekvaliteter.
Syftet är att få rensa ut stress och onödig anspänning och känna sig stark, samtidigt som man får vara mjuk och graciös.
Det är ett förkoreograferat koncept med en tydlig struktur och tydlig känsla som genomsyrar klassen – men med frihet som instruktör att anpassa efter sina deltagare.
Utbildningen är två heldagar där vi jobbar med aktuell release/koreografi.
Kostnaden är 3 300 kr ex moms (6%)
Nästa utbildningstillfälle: 9e-10e november 2019
För mer info och anmälan – maila till asa@asafornander.com
Topphälsa Magazine har testat klassen och de tyckte jättemycket om Dance Detox Flow.
I nr 6/2018 kan du läsa hela artikeln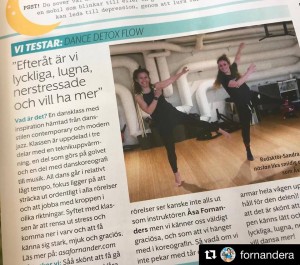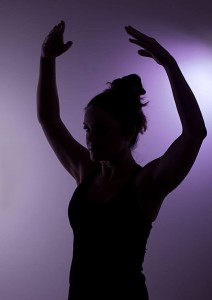 The newest concept from Åsa Fornander is a class called Dance Detox Flow
It's a dance class in add-on format
The class is divided into three different blocks; first a technique warm up, then a floor part and then a choreography block taught in a flow to music.
The style and feel is inspired of contemporary and modern jazz.
The tempo is rather slow – to give you space and opportunity to extend and expand, as well as move your body in different directions, levels and qualities.
The goal is to get rid of stress and unnecessary tension, to feel strong and powerful but at the same time allowed to be gentle and graceful.
A detox for your body, mind and soul – created by dancing.
It's a pre choreographed concept with a clear structure and a clear vibe/feel that permeates the entire class. How ever – it's plenty of freedom to adjust the class after your participants.
The instructors training is two full days, and the schedule is about to take form in this moment.
The fee is 3 300 sex ( + VAT)
Next Instructors Training: November 9th & 19th, 2019
To sign up – send an email to asa@asafornander.com