You know I wrote the other day that this week was like a pre-week…before the mania kicks in.
I take that back, the mania is already here.
The gym is packed – the cardio area is crowded and (all) the classes are fully booked. It's january people!
It's these days our regulars growls and hisses over all the period-people that encroaches on the space.
But then – they also know that in a few months it'll be back to normal which might make it easier to be patient.
And it's FUN in january – with all the pulse and energy, all the peoples and the determination that's in the air. Suck it all in and preserve it for a rainy day in early april when it doesn't feel as natural and easy to train.
I was at SATS Odenplan yesterday – for some training of my own. Both in the gym and in the gf-studio.
This is how flexible you get from doing BODYBALANCE™ 😉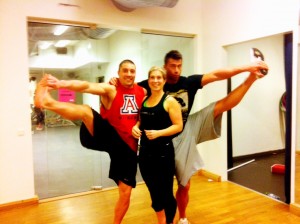 Happy training people!