This is the last week of the spring schedule.
21 weeks flew by, just like that.
I'm teaching all my classes this week, except the BODYBALANCE™ at Zenit – since we have our annual Nike weekend this weekend, with the entire team.
And then next week the summer schedule starts – and I'll be teaching almost like usual for the first two weeks – with some small adjustments.
Stay tuned here at my website, blog or at SATS.

Today's class was a blast, so much fun!
Thanks awesome peeps for your energy, and your great spirit!
Here are a few from tonights crowd, chillin after the class.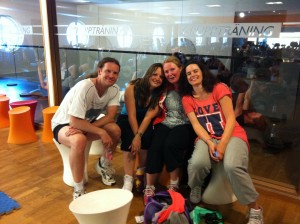 I did my S&M-choreo when I subbed saturday, and I got some requests to do it again, so that's what we did tonight. I liked it, liked it! : )