The NIKE BLAST site opened up last wednesday, nov. 30th. And in this very moment it's 1466 people that have payed and signed up.
One year I helped Lina out – that's the organizer and the brain behind this amazing event – at the office. I worked with her for three months, nov, dec and jan – for the event of 2007.
And one of my assignments was to manually type in all the people that registred.
Back then you signed up by sending in a fax with your class selections – and then I had to sync the fax with their payment that came by mail – and by mail I mean snail mail.
It took like forever. Haha!
It was only five years ago… These days, it's like a totally different event.
2012 is the 18th year in a row for the Nike Blast!
And my 10th year as a presenter. It feels awesome!!
The first time I visited the convention I was just a tiny teen, still in high school (gymnasiet)I went to the dance program… and one of my class buddies was performing at Nike – so we went out super early saturday morning to look at her… 
Then –  I was totally unaware of dance as a way of training…and conventions… and Nike… more than as a brand of sneakers and clothes.
But as I was watching a class with Ms Gustafsson right there and then, I thought to myself – I wanna be on a stage like that too…doing my thing… without really knowing exactly what they're were doing – or what the purpose was – or what kind of people that came to a thing like this…
And it actually didn't took that long until I was there – doing my own thing.
I was overwhelmed of the glowing energy that was all over the venue… and I still am. That's the one of the things that makes the NIKE BLAST so special. That magic glowing energy is still there – and it's a very special feel that you need to experience for yourself.
So – I hope I'll see you in Globen the first weekend of february 2012.
There's still plenty of spots left in several classes and lectures. You don't wanna miss this happy BOOST of inspiration & energy!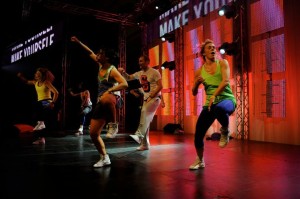 From 2011-BLAST, the 100% earned teamclass.