Once in a while there comes a pair of ROCKSTAR-pants from Nike.
They always do kick ass clothes, but every now and then there is a model/style that you just instantly fall in love with and never ever wants to take off.
Like the freestyle pants a few years ago for example (that Les Mills International have copied for the Les Mills collection – even with the striped ribbing at waist)
Now there's a new favorite in the building. And it's a men's sweat pants.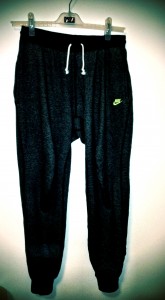 467125
I have them in grey and black – and they're just awesome to do some booty-popin' in…
They might as well be your new favorite too.