So – for you (who's joining our trip) to get to know some of all the amazing NYC-Crunch-instructors a bit better – I'll give you a minor presentation of them.
One at a time, here on the blog.
First out is Mr Craig Smith.
I first met him several years ago in Holland when I was there for the NIKE Rockstar train-the-trainer-session.  He was our trainer. 🙂
Craig is an amazing dancer, choreographer, teacher and instructor.
He's been performing with several artists, like Beyonce, Rihanna and Brandy to mention a few of the most well known.
He's been working with NIKE for many years in the US and been presenting at conventions in Asia a lot.
2012 when NIKE FINLAND asked if I had any great tips for them I suggested him, and they brought him there.
2013 we invited him to NIKE BLAST Stockholm and he presented two awesome classes.
During 2013 he's been on a promotion tour as a Hard Candy Master Trainer to promote Madonna and her gym chain Hard Candy – as she's gone world wide with it.
He's teaching 'funk' at Crunch which basically can mean any style within street dance.
I always takes his classes when I'm in NYC, and it can be dancehall or hiphop – old school or new school. It's a lot of variety in his classes, and he's just awesome.
And humble!
The past seasons he have been teaching at Crunch Lafayette tuesday nights, 18.30 – and when I asked him a few weeks ago he thought the time slot would stay the same for fall-13.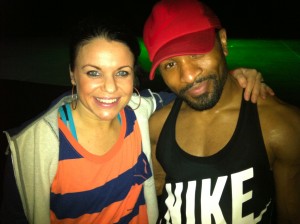 Me & Craig at NIKE BLAST Helsinki 2012.