This is the first week at SATS Spårvagnshallarna, that had its grand opening saturday.
Which means that I taught my first class there this morning, BODYBALANCE™ at 7 am.
I'm sure this is gonna be a wonderful class…
I mean – the studio is awesome! A huge window that let real daylight in, and it's getting lighter and lighter during the class – and also, it's a little bit warm so you don't have to freeze your ass off when you get there early in the morning.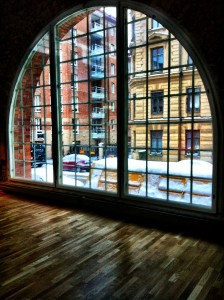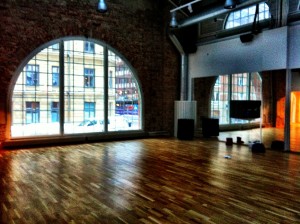 The location itself is amazing.
When I step in to the frontdesk desk and see the juice bar on the left it reminds me a little bit of Equinox at 19th & Broadway – (without the wooden interior, and not quite as cosy) which is one of my favourite studios in the world.
That's also where I taught my very first guest class in New York City.
Patricia Moreno set me up to guest teach her lovely friday morning dance class way back in 2007.
Anyhow – Spåris reminds me of this club and it put me in a great mode as soon as I walk in.
Despite all that I'm starting to wonder if I might have gone over my head – with morning classes three days in a row.
I'm not a morning person, but one early class a week is fine – even two early classes a week turned out to be bearable… but three – I just don't know if I (my body) can handle it. This morning it certainly didn't feel like it when the alarm went off.
I guess I have to re-think this once or twice.
This afternoon there will be a sub on my HotMOJO® class – since I really need to focus on the classes and workshop I'll be presenting at the NIKE BLAST Finland this weekend – but next week I'll be there and sweat it all out.
I do teach my jazz tonight – it'll be a dress rehearsal for my SAZZY JAZZ that I present saturday morning.
A slightly revised version of Papi. One time only!
Hope to see you there!