One of the hottest trends right now in the US is Flo-Yo = Floating Yoga = Yoga on a paddleboard.
It may sound weird – but it looks awesome.
From the "simple challenge" to be able to stand on the board while going from one point to another, the regular stand up paddle boarding (SUP) have developed into doing full yoga sequences on the actual board.
The classes are led by an instructor and all together, you paddle out to find a calm spot. Well up on the spot – the actual yoga session can be anything between 30-90 minutes. Obviously the classes are a bit smaller than if you go to a gym or studio.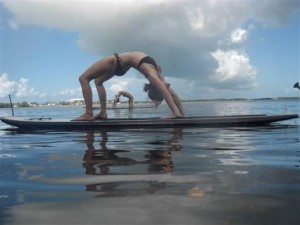 From a class at Key West Stand Up Paddle Board Yoga in Florida, which is one of the places that offer classes in this hot fast growing trend. (pic borrowed from TODAY Health)
This is huge trend on the east coast, and it starts to take off on the west coast as well.
A celebrity who is said to like Flo-Yo is Jennifer Aniston (who seems to be in to trends in general I'd say – it's quite often she is mentioned when it's something related to new fitness & training trends)
Equinox magazine wrote an article online about paddleboard yoga recently – and here you can see the video they published along with it, with Equinox Yogi Dice Iida-Klein from LA, going all in out in the Hamptons.