So, the tracklist for tonight's best of class looked like this:
Warm up  37
Isolations  39
Hip hop 47
Contemporary Rock 45
Recovery 52
Street Party Riot 57
Groovedown 36
I tend to like the newest one.. since I'm a pretty restless person that likes to look forward more than back. So I did threw in a brand new block in the end.
The awesome and lovely Maria backed me up for the first half, THANK YOU for that!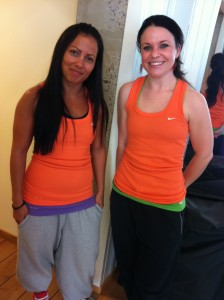 No, we didn't plan our tops…!
It was a nice crowd… and they sure danced their asses of.
A few of them after class: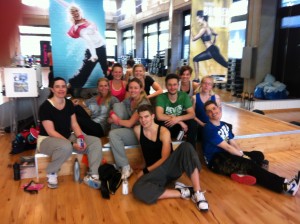 Tomorrow – it's time for Malmö to jam it out, but then it will be all new. BODYJAM® quarterly at SATS Västra Hamnen.
Thank you Stockholm-jammers for celebrating with me. Let's continue the partey at Super Saturday!
Happy weekend!