It's been subs covering my classes all week – since I've been home with fever, sore throat, tooth pain, migraine and all shitty signs of infections you can imagine.
But I'm craving to go to class again – and tomorrow I hope I'll be there for the jazz.
18.00 people – it's summer schedule!
Last week my awesome teacher, and also class teacher, from Danscenter took my jazz class.
She's one of the best!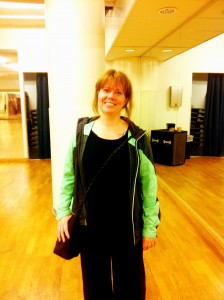 Annette Starck, the one and only.
If you're serious about dance and want to educate yourself on a professional level, I can warmly recommend the two year program at Danscenter, Stockholm.
You train all the techniques, but it's focused on street dance, which not is that common in professional educations.
They already held the main audition for next year – but it's gonna be an extra audition july 29th.
So if you're up for it – or just want to practice your audition skills, go for it!