…in a grey and rainy Stockholm! How about that?
The weekend was great.
It was an intense training since I had almost exactly 48 hours from start to stop. A little bit less than usual.
And the instructors from Friskhuset did awesome. They worked hard and they challenged themselves for sure. And it paid off! The progress was huge. Well done!
This was a in-house training only for Friskhuset – so I had six instructors from Mo i Rana where we were, and then three ladies from Friskhuset Bodö, where I also have been. For their convention two years ago. It's even more up north.
Here's the crew of the weekend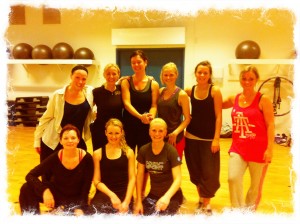 A funny note: one of the chicas that got to present track 10, Turbulence, is working as a flight attendant at the airline that's flying the tiny propeller planes all over the norwegian mountains – that I was going with the last bit.
And she did took us for a wild ride on the dance floor!
She was on the same flight as me on the way back – which made the trip much less scary, and now I know a lot more about the planes.
I kind of like all the private aircraft-lessons I've gotten on my trips lately… it's like therapy, sort of.
Time to charge up for some BODYBALANCE™ at noon, and then tonight's classes at St Eriksbron.
Happy Monday y'all!