These days my main focus is definitly on my three classes that I'm gonna present at the NIKE BLAST. So it will be – all the way to the next weekend.
Practice, prepare and polish.
Yet – I'll do a quick appearance at House of Shapes this upcoming weekend, for their open house.
Saturday I'll teach two classes; AfHo® and jazz.
In the jazz class we'll do my Diamond-choreo (by Rihanna) so come join me.
It's for free!
NEXT friday – the day before NIKE BLAST is about to explode – my awesome friend Kristin will borrow my jazz-time-slot at HoS and guest teach.
FRIDAY feb 1st, 17.30-19.00
She is amazing in every way; as a dancer, choreographer, teacher… and person!
She lives in NYC – and teaches on regular basis at Peridance, Broadway Dance Centre and Crunch. This is the third year in a row that she's presenting at the NIKE BLAST. Last year she team taught the Femme Fatale-class on the big main stage with me and Åsa E.
Do not miss this exclusive opportunity to take a studio lesson for this talented stong woman.
If you're a member at HoS – there's no extra charge. For non members to drop in it's 200 sek.
Very well spent money I'd say.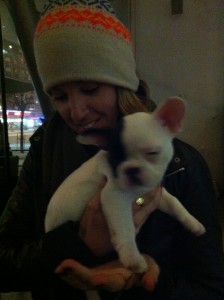 Kristin & Siri (as a puppy) at last year's BLAST.