From Super Saturday to a work-weekend in Stockholm to NYC, and that's where I'm at right now.
Right between Nolita and Chinatown to be specific.
The official Dance & Training trip started today, with a 'meet and greet' at W hotel in Times Square and then the entire crew headed down to Crunch Lafayette for a class called Urban Attitude.
Me and Jonas are teaching classes every day in the mornings, and then each and every one gets a one week pass at Crunch in addition to that.
We have suggested classes every day for those who want some company.
Basically – I've picked all my favorite classes as the daily suggestion.
Today's class was actually the only one that I didn't know the instructor from before. LaShawn that taught the class is pretty new to Crunch I think, and she taught the class together with a guy that seemed like her side kick.
My guess is that both of them are pretty new to teach in this way, and I loved their spirit.
The routine was to Jessie J's Wild, and the actual style was a fusion of hiphop, jazz and afro vibes. Fun class!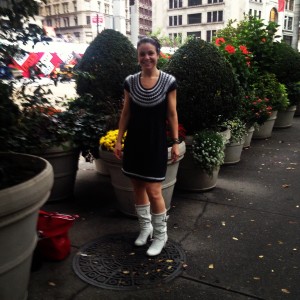 I decided to dress up in 'regular clothes' today as I figured NO ONE in the crew have ever seen me like that.
Fun – until it started to poor down. When I came to the hotel my knitted dress was soaking wet and I looked like a drowned cat more than a chic tour guide 😉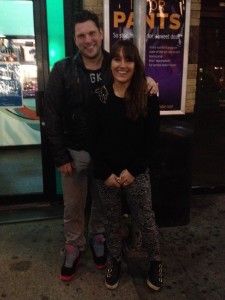 Jonas and Moa outside Crunch after the class.
Tomorrow the first class is AfHo®.
Can't wait.