2000 people are signed up for Super Saturday at this very moment!!
2 0 0 0 peeps!
And, I'll be presenting on the big stage in Globen! Well – maybe not for all 2000 at the same time, but for a few of them at least.
I've presented at Super Saturday for three years in a row; 2007, 2008 & 2009. Last year I had a – wonderful and inspiring – time out, since I spent six months in NYC during that time (and I got to present at awesome US Les Mills event instead)
But now I'm back for 2011 – and I'm really excited about it!
So, 13.45 – it's BODYJAM® time, with me, Mysti, Kimmo and Rachael.
Don't miss it!
The music of 58 is made to be played LOUD in an awesome sound system.
See you in Globen!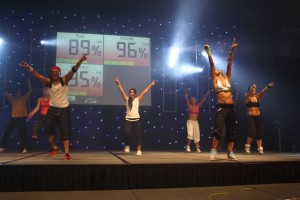 The pic is from one of my happiest Les Mills event memories…