Yaay! Summer's back.
And this is my last week of teaching in Stockholm before it's time for me to get some summer holiday and a luxorious refill of my favourite place in the world.
This week I'm teaching:
tue 11.00 BODYBALANCE™ Fridhemplan
tue 12.30 core Tule
tue 18.30 BODYBALANCE™ Tule
wed 06.45 BODYBALANCE™ Fridhemsplan
wed 17.30 street Fridhemsplan
thu: 18.00 jazz Odenplan
thu: 19.00 core Odenplan
Tonight's classes at St Eriksbron was amazing – as always! Despite that it was sunny, warm and just awesome outside, I had a full class of fierce and sweaty dancers.
One of them was my co-worker, the beautiful and talented Annica!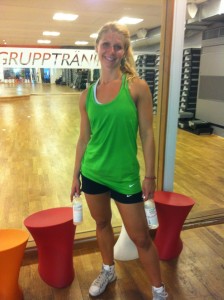 She rocked – and contributed big time with her great vibes, thank you for that!