When I came to Odenplan tonight – to teach my jazz I met my boss, Ninnie. She's the training manager at the club. She's been teaching a team class that she spiced up a bit with this awesome outfit!! Just for fun a regular thursday, isn't that awesome? (And she's in an amazing shape, right?!)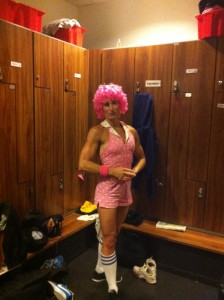 I LOVE Ninnie.. she's like the best, so relaxed and happy! It's bosses like her and Jessica (that's rocking my home location Fridhemplan) that makes it easy, fun and professional.
Actually – I'm lucky with most of my training managers at the different locations I teach at.
Looking forward to the fall semester of 2011 – even though I'm gonna stick with that it's still summer.
The negative people say it's fall already – I do not agree.
I sat outside and enjoyed the late summer night this evening after my extremely liberating jazz clazz. And. I. loved. it!
xoxo