For the first saturday in 6 weeks I didn't have to go up super early to head off somewhere for work.
But then last night when I almost stumbled on my pile of laundry, that is overflowing out of the laundry basket that's supposed to fit into my closet in the hallway – but now is all over my hallway  (and to close the closet-door is not possible at the moment) I just could't ignore it anymore.
Of course – the one available time: super early saturday morning.
Just do it! As we say 😉
In one week, the usage of training clothes is pretty high so I guess it was necessary.(since this was the usage of several weeks = starting to run out of outfits)
Last night I had to sub away my beloved jazz at HoS to practice some BODYJAM®68. And so I will the upcoming friday as well.
Instead I joined Dorotka for a class she was teaching at Fridhemsplan and we made a team teach out of it
If you would like to try out the filming release you'll have a few opportunities next week.
One of them is my regular class – TUESDAY 16.30 at SATS Fridhemsplan.
You'll have a couple of more occations as well – stay tuned here (or at LMN's facebook page) for further info about that.
Due to all our rehearsals and preparations for Super Saturday – there will be some more subs on my classes next week.
The classes I WILL be teaching are:
MONDAY, core & street 18 & 18.30 – St Eriksbron
TUESDAY, BODYJAM® 16.30 – Fridhemsplan (the entire crew will join me)
WEDNESDAY, BODYBALANCE® 06.45 – Fridshemsplan
FRIDAY, HotMOJO 07.00 – Spåris
Hope to see you though.
And, if you're out for shopping spread a day like this and need some inspiration (NIKE fashion that is) – here are two favorites of mine;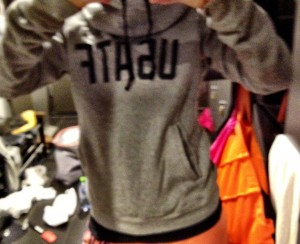 Nike hoodie: 546402-063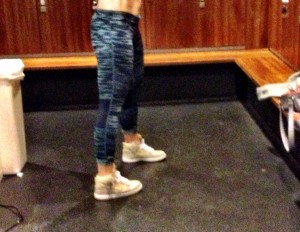 Zebra tights – blue edition:  546410-424
And yes – sorry about the slightly blurriness – tried to cut as much as possible of the rest of me and the locker room.
Enjoy your weekend beautiful people!