Last night I dreamed about the filming on Super Saturday.
No panic-dream though. (they might wait until the week before, hehe)
I dreamt that one of the more athletic presenter teams (not the jam-team as you could think) were told to were 'one pieces' on stage and on the dvd.
Some of them got really really upset cause they didn't want all their dieting, hard core workouts and 'deffing' to be a waste.
How about that? Pretty weird but pretty funny and it was super real.
I have no idea of what it meant and I strongly doubt that any presenters will be forced to wear one pieces on stage. 🙂
Anyway… if you DO like Les Mills classes, and if you're curious about the filming – take the opportunity to participate.
This is the first time ever that the filming is happening outside New Zealand.
Each filming class costs 100 sek (10 €)  – in addition to the Super Saturday fee – and there are still spots left.
I'll present on the BODYJAM®68 filming  – and I hope to see a lot of jammers go crazy on the dance floor.
You don't have to be an instructor to participate on Super Saturday or the filming. Anyone can come.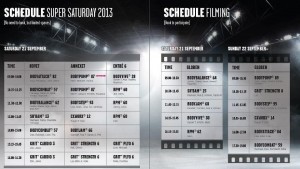 See you in Globen.