2008 I was invited to Les Mills International and New Zealand to present on the BODYJAM®47-dvd.
It was an intense – yet awesome – week and I learned a lot about the program and the whole filming-process… and when I went back home with all my new experiences I felt like "I wanna do it again"
Today I found out that I will do it again – in september.
BODYJAM®67 – I think (if I'm not totally confused) which I take as a great sign.
Besides Gandalf the guru – my co-presenters will be two of my awesome nordic fellow trainers.
WE ARE GONNA HAVE A BLAST!!!!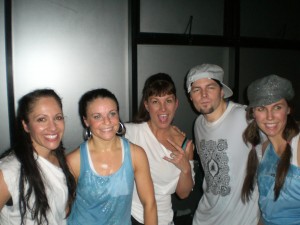 Right after the BODYJAM® 47 filming…