Yesterday I went to see Jennifer Lopez in Globen.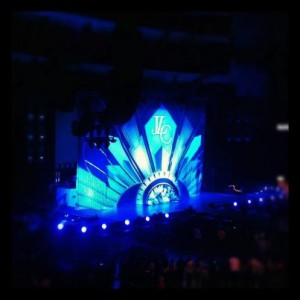 This is her first world tour – and you could really tell.. by the firework, the smoke, the laser, the confetti, the glitter and the energy! BOOM!
She performed some of her old tunes – and visually I liked the 'Back to the Bronx'-block the most. So hot! And cool!
Like I posted on my facebook page after the concert; it was a real shut-the-fuck-up-show, definitely nothing less than expected from J.Lo
More like a lot more.
She sounded awesome live! She's so beautiful that it's almost ridiculous! She can dance! And then add a kick ass show with 8 FIERCE dancers, and all the stuff that I wrote above. SUCCESS!!
She didn't touched my soul in the same magic way that Lady Gaga did – but it was a great and sexy injection of energy, inspiration and FUN!
I'm sure pretentious music reviewers have another opinion – but I LOVED it!
(I take pride in not beeing as pretentious as most reviewers are, ha! )