Besides today's qw's – I've done a few more.
The first was in Finspång two weeks ago. It was a in-house quarterly for Medley. I did BODYBALANCE™ as a quarterly, and then BODYJAM® as a promotion class – since they don't have that program just yet. My guess is  though, that they will have it pretty soon. Cause they sure seemed to like it. Maybe at a Medley near you.
Last weekend it was the capital-jammers turn (capital and surroundings I better say) to be updated!
Sunday afternoon in late november = dark grey and foggy outside!
The 1st of advent = people wants to be home and eat ginger bread and drink their glögg. 
Despite that – I had a group of 27 awesome BODYJAMMERS that danced their booteys off.
Olle was there…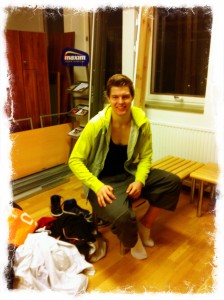 and he was probably the freshest jam-instructors of them all.
Fresh as in most recently educated. Hehe!
Not as in the rest of the crowd seemed to be fading.
Quite the opposite! It was so much fun to see old faces – and new faces – and that they all went all in! GOOD JOB! And thank you all!
BODYBALANCE™ in Stockholm this weekend, and then both programs in Gothenburg the next. I'm hoping for lots and lots of just as happy, lovely and relaxed people as it's been this far, the upcoming weekends. 🙂