I got this pic yesterday – which is from the local news paper in Växjö. (How about that? 🙂 )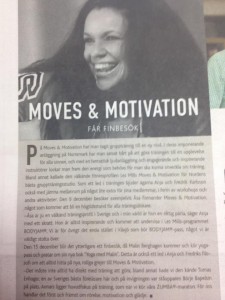 It will be in stores (in Växjö) all november – promoting the new club Moves & Motivation – who seems to be a real one of a kind facility. Can't wait to see it IRL.
I'll be teaching a BODYBALANCE® quarterly there sunday december 9th – and while I'm there, I'll be teaching the new BODYJAM® as a master class as well, thereof the pic in the  paper.
So, if you're around december 9th – I – just like always – hope to see you there.