Earlier this week the new Les Mills-releases arrived, BODYJAM®61 and BODYBALANCE™57.
I'm not gonna start learning them just yet though, it's still a bit too early to start teaching them. But I checked out the BODYBALANCE™ since one of the Nordic Trainer is on the dvd, presenting.
Arja from Finland.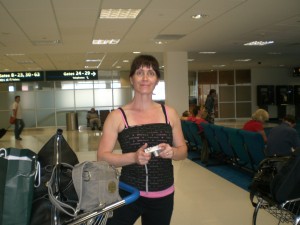 She did a great job, of course!
It was an entire crew on stage, five presenters. No Jackie this time though.
Since I looked at it quite briefly – I did't get a real feel for the release, but I liked what I saw. And it was a track 6 bonus track that [music wise] was better than the regular, I think. Good stuff!
It's a bonus track in the current release (56) as well, for track no 3. How ever – I like the regular one better so I haven't used it.
How about you, my fellow BODYBALANCE™ instructors? Have you picked up the bonus track?
BODYJAM® – I haven't seen yet. I'll most likely save that until I've done the initial training in may on the old release.
Yesterday when I was at the Les Mills Nordic main office – I tried to convince Hanna that I could do the new release for the initial training.
Since it's only two weeks before the first qw – it feels more fair to do the new one. Especially since it's takes a while to learn the entire choreo when you're brand new to BODYJAM® and Les Mills.
But she was unwavering in her mind, and I wasn't allowed.
Well, time to start up this thursday!
Maybe I'll see you in the jazz-class tonight.