Yesterday the NIKE BLAST website came alive, and the registration opened.
It opened up around 4.30 pm – and last night (ie. in a few hours only) it was more than 900 people that have signed up.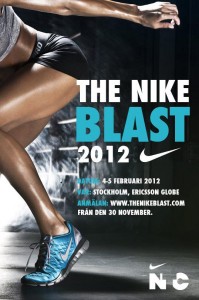 Crazy?!
Totally! But crazy-good of course! And totally expected.
Cause this is the BEST event in the world.
It's the BLAST of the blasts – and the EVENT with capital E!
I'll be presenting – my tribal house in a new fresh and updated version, with a brand new name: AfHo (as in afro & house)
Last year I got to open up the entire BLAST on the big main stage – and this year I'm shutting it down by tearing the dance studio-stage down.
It's gonna be awesome, LOUD and just BOMBLASTIC!! Come join me sunday afternoon!
I'm also teaming up with Åsa and Kristin – for a smoking hot Femme Fatale, at the big stage! Also sunday!
Don't know what to say… more than that we'll be dancing till the world ends… Don't hold it against us! It's gonna be criminal fun – up n'down crazy sexy fun – and some BIG PHAT BASS!
You'll be (DROP DEAD) beautiful on the dance floor. Cause this is your time to shine!
Your time to be selfish! 
I think you get it…
And yes, we might play some Britney – LOL!
See you in the GLOBE!!!!