Day two of the HotMOJO® is done and today was a pretty long day.
We started off by going through the technique for all the poses in the sequences we work with during this weekend.
After that a briefly coaching session followed, and the thoughts behind it.
The coaching is very similar to the Bikram-coaching;
Verbal ques only – and a lot of instructions that have to be clear, specific and easy to follow – which should be delivered in a pretty short amount of time.
You need to be sharp, and on it – right from the start!
Then we practiced how to assist our participants – to help them progress and improve in the poses.
We also got to take the entire class again, and after that we were divided into pairs and we got to teach the standing sequence for our partner.
Here's my team-partner, the big boss Jessica.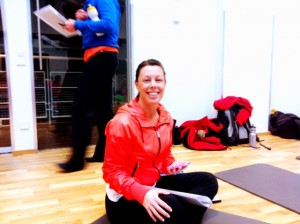 I was 3 minutes to fast. The first half of the class is supposed to take 30 min and I was done in 27.
I know I can be a fast speaker, so my guess is that if I slow it down a notch or two I'll fill up those extra three minutes. 🙂
SATS Spårvagnshallarna is a really nice facility (and it definitely feels a lot more like a facility than a center) and the studio where I'll be teaching BODYBALANCE™ in thursday mornings is just wonderful!!!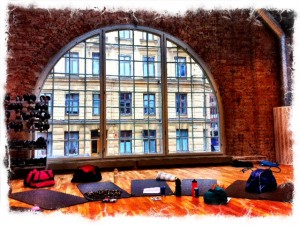 Like I wrote yesterday, I enjoy taking workshops and trainings – even though I'm not necessary gonna teach it. There is always things to learn, and this weekend it's also nice to hang out with SATS co-workers, which rarely happens, for me at least.
Besides the pilates training I took way back, this is the only education I've been to through SATS.
Three of the super lovely ladies that are joining me for the weekend are Jessica, Mia and Angelica.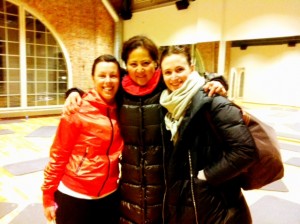 Enjoy your saturday people.
Peace, Love, Namaste & Cheers – choose for your self. 🙂