About a month ago I was in Gbg to do an inspirational dance workshop for SATS instructors.. and this weekend it was time to do the same in Stockholm.
I did have pretty many people registered on my list that I got from the hq – but once we were there not even half showed up.
How ever – the people that did came filled up the studio very well.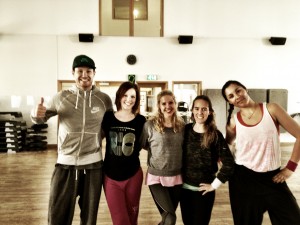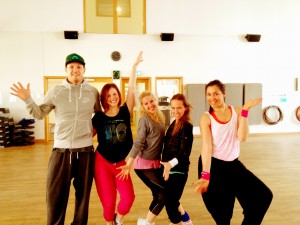 Awesome co-workers!  ♥
I did a pretty long warm up – with some different across the floor-drills to different songs/styles. I promised the group the playlist – so I'll post it here if anyone else also would like to know what music I used.
Warm up:
#thatPOWER – will.i.am feat Justin Bieber
Bless di nation – Congorock & Stereo Massive feat Sean Paul
Across the floor:
Nobody knows – Darin (jazz)
Body – Sean Paul (latin style)
Greyhound – SHM (house)
One – A chorus line cast (musical)
Routine 1 – lyrical jazz
Impossible – Shontelle
Routine 2 – hiphop/street
Whaddup – LL Cool J
Blow-some-steam-off-freestylin'
Whatz up, Whatz up – La Adelina
Stretch:
Love without tragedy/Mother Mary – Rihanna