Yesterday it was the annual inspiration day and kick off for SATS; SATS Nordic Convention. We were the swedish fair in Gothenburg.
I believe it was about 2000 employed participating in classes, lectures and then the awards dinner in the evening.
From Stockholm it departured a train only for SATS-crew at 5.36 am.
I presented BODYJAM® as a master class on the main stage, along with my awesome fellow trainers Dorotka and Kimmo.
BODYJAM® is new on SATS from the fall semester-13, and we've had several initial trainings for the SATS-instructors during the spring, and the energy in the room was awesome.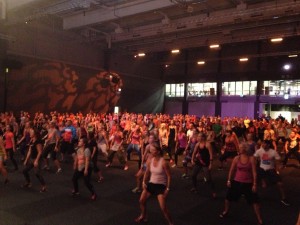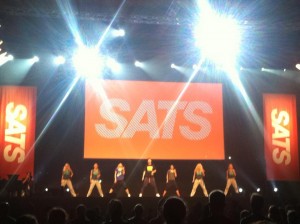 We had excellent back up from four of the instructors that we've trained this spring, Charlotte, Rebecca, Therese and Katrin. Thanks guys for rocking that (huge) stage with us.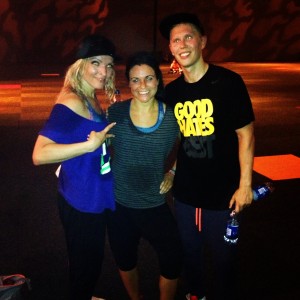 The mandatory sweaty 'after class pic' – Dorre, me & Kimmo.
We presented release 66 #makethecrowdgo, which is the same as I will present at Super Saturday in Globen along with Gandalf – the program director from New Zealand, Phil – trainer from UK and Sarah – my fellow nordic trainer from Denmark.
I'll teach BODYJAM at SATS Fridhemsplan – tuesdays 16.30 
Hope to see you there.