The latest buzz is to get a buzzed – after busting your ass off.
Are you a little bit sad that you almost always (or at least quite often) miss out on social activities and events because you've chosen to commit to your training?!
Would you like to replace your after workout snack such as smoothies, wolf berries and acai berries (and what ever it is that all the it-healthy-bloggers claim that they are having) to a glass of wine or a cocktail and some easy going mingle once in a while?
Well – in that case – you are definitely not alone of feeling that way.
A up an coming trend in New York City is to establish concepts as "Bootcamp and Beer" or "Workout and Wine" on the regular fitness schedule.
Rogue Female Fitness is only one of the studios that's going all in for this happy hour-workout-concept and with the class Raise the Bar they address to women in their 20s and 30s who are fed up to forgo happy hours, afterworks and any kind of social events to go training every night.
– Fit women shouldn't have to miss out on happy-hour socializing, says the founders of the studio.
It starts with a class of high intense training, cardio & toning,  followed by an after work-out mingle. Sweat, socialize and network with a bunch of like-minded
– We look at it as fitness for the real woman who really enjoys her life on both ends of the spectrum and isn't willing to sacrifice either fitness or fun, says one of three founders of the studio about the concept in an interview online.
And – they seems to do pretty well, since they launched the concept about a year ago, they've expanded.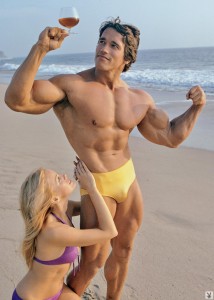 Train hard – play hard? 😉