Earlier tonight I taught my wednesday night steet class at Fridhemsplan.
I did the freak show choreo from earlier this spring.
It was amazing. So much fun!! I love you beautiful people!
And, tomorrow I'm heading to Copenhagen for another dance gig with Jonas. This time it's only half the crew, so it's me and Josefin that's flying down for some rainbow gala.
Rådhusplatsen is the place – and we'll be on stage around 20.30-ish. So if you're around – come by!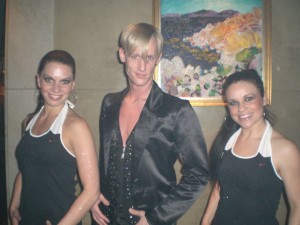 Josefin & me at a gig we did at Café Opera – waaaaaaay back in the days, lol. Here with Magnus as well (yeah – it's a wig)
This means that I'm not teaching my thursday-classes at Odenplan this week.
Mirco is subbing my jazz and Ann is subbing the core class right after.
So – I see you monday night at the bridge again, for some Cannibal choreo.
From the fall schedule – w. 35 – it's all new choreos again.