Yesterday I payed a visit at 24h fitness in SoHo – and I took a BODYFLOW/BALANCE™ class. I met two of my US trainer friends, Danielle (who taught the class) and Angel that also attended the class.
Good stuff!
BODYBALANCE™ is brand new at 24h fitness – so except for the launch last weekend this was the first class on schedule.
Les Mills is not that big in NYC yet – but I really think that the New Yorkers would appreciate BODYBALANCE™.  Hope so!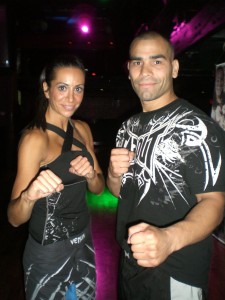 Danielle & Angel – the pic is from the event at Pacha last year.
I've sneak peeked at the release 54 – seems good. Haven't started to learn it yet though.. it seems a bit to early just yet…