Today it was time for the second tour stop with my Choreo Boost Workshop that I'm holding for SATS – and it was SATS Göteborg time to move their asses. : )
According to the list it was gonna be a rather small but still an ok crowd of dance peeps – but when I came it was a teeny tiny group, only five people. But the better were they.
They all moved really well – which was great to see, and they seemed to like the workshop.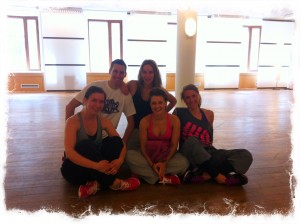 Awesome job guys, thanks for your positive vibe!
Now I'm in Malmö – where the third and last tour stop is or this round.
The training manager from the club where we're supposed to be called me earlier and said that the studio were "kind of double booked" – so I'll be at another club.
I don't mind, as long as I catch my flight.
But then when he was about to explain how to get to the club he asked me what hotel I'm at… I answered that I really didn't know, some Elite hotel close to the central station.
Then he got quiet for a while before he continued;
– Aaah – that hotel.
(me)  – What?! Is it bad
(him)  – Noo.. the opposite… (silence) so, the educational budget is lavish indeed (even more silence)
And in the same moment as I felt he turned really bitter and judgementful to me it hit me that there is rather fancy Elite hotel as you walk from the station – but it's not that one I'd be staying at.
And for some really weird reason I  felt obligated to explain to him how it was.. and he was like – what ever. Annoying!
He gives me a call one day in advance – tells me that they have double booked their studios – and need to move my workshop to another club, and that I might need to switch studio in the middle of my session as well…
And then he judge me for what hotel he thinks I'm at.
Weird!!!!
Anyhow – that's just a tiny side track.
I'm looking forward to tomorrow's CB and I hope everyone remembers to change the time this night – finally back to summertime!!
You know what that means, it's summer! YAY!