August is here, two more months until our Dance & Training Trip to NYC is about to happen.
If your vacay is over and you need something to look forward to this might be it.
It's gonna be a week of dancing, training, inspiration, energy-boosting and of course good times.
There are still some spots left – but they are not unlimited and we will close the registration. Not quite yet though.
Besides daily classes with me and Jonas – everyone that joins us will get a temporary membership at Crunch gym that's valid from oct 7th – oct 14th and it will give you unlimited access to all their clubs.
Crunch have 10 locations in Manhattan. Check out their website to see exactly where they are.
You can not book classes at Crunch (not even their 'all year-members' can do that) so it's all drop in.
Heads up – if you're checking the schedule now already, remember that it's still summer schedule with reduced amount of classes.
If you're in to dance classes you have some really fierce classes to look forward to.
With awesome dancers/teachers.
Many of them teach both at Broadway Dance Centre, Peridance and Steps etc. as well.
I was thinking that it would be a fun idea to give you a closer presentation of some of all these awesome instructors – and tomorrow the first one will appear here on my blog.
Here's a preliminary schedule of our (me & Jonas) classes; 
Tuesday:
Åsa: AfHo®
Jonas Burlesque
Wednesday:
Åsa: Street
Jonas: Broadway Basics
Thursday:
Åsa: Jazz
Jonas: Urban Funk
Friday:
Åsa & Jonas NTC (Nike Training Club) in Central Park
Åsa & Jonas Yoga/Flexibility
Saturday:
Åsa: Girly Groove
Jonas: Urban Funk
Sunday:
Åsa: Street Jazz
Jonas: Broadway Basics pt II
Monday:
Åsa: BODYBALANCE®
Jonas: DanceJam
Our classes will be in a separate studio – we can not give you any exact location for that just yet. It's a bit to soon to reserve, and it's also depending on how many that will join us. But most likely somewhere in Midtown which is easy and quick to go to no matter where in Manhattan you're staying.
Then – we will pic a class everyday for all of us to attend together.
Like a common activity, for those who's up for that.
You'll get an exact schedule a couple of weeks before departure.
We are so looking forward to this trip.
If you want to sign up – or just ask a question or two, don't hesitate to email me:
asa@asafornander.com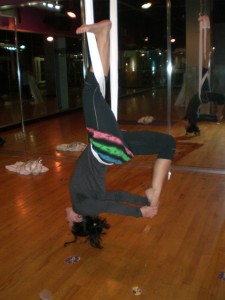 Here's me – participating in the anti gravity yoga class that's been a real success-class at Crunch the past years.